Welcome to Sampler Block Patterns!

There will be 30 blocks altogether that create one quilt. Finished quilt size is 64" X 76"
See picture for reference on how it will look at the end.
The blocks will be uploaded on this page once a week starting in February.
You will need 3 1/2 yards for background and 20 - 24 Fat Quarters.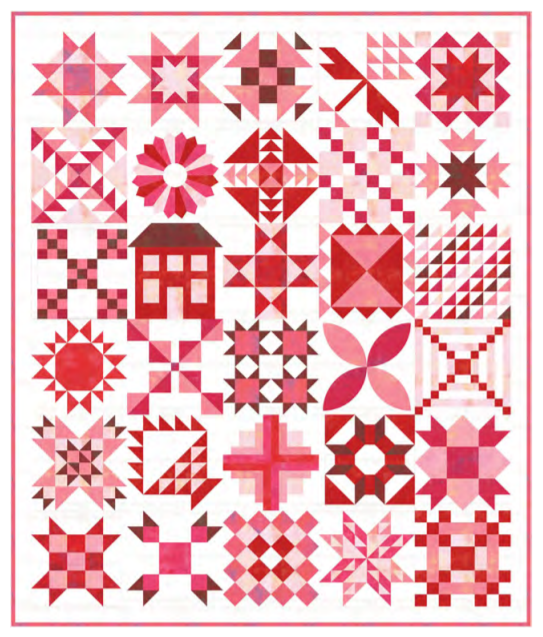 Instructions on How to Access Stitch Pink Blocks:
Choose which block you want access to by scrolling down this page.
Click on the name of the chosen block. The image of the block appears to the right of the name.
The block will open up in a new screen for downloading or printing

To Download: Click on the arrow pointing down in the upper right-hand corner
To Print: Click on the printer icon in the upper right-hand corner
Block Titles -
Click on title to access

Moda Block

Cathy's Block

Block #1 - Underdog
Block #2 - On the Rise

Block #3 - Monkeying Around

Block #4 - Flower Power
Block #5 - Best Friends
Block #6 - Baby Boom
Block #7 - Jersey Girl
Block #8 - Fly Away Home
Block #9 - Breaking Rules
Block #10 - Helen
Block #11 - Five and Nine
Block #12 - House on the Hill
Block #13 - Rock n' Roll
Block #14 - Along Comes Mary
Block #15 - Tweet Tweet
Block #16 - Just Call Me a Diva
Block #17 - Casablanca
Block #18 - Catch A Falling Star
Block #19 - Tropicana
Block # 20 - Blow Me A Kiss
Block #21 - Celebrity
Block #22 - Something Special
Block #23 - Fixer Upper
Block #24 - Pine Nut
Block #25 - Underground
Block # 26 - City Girl
Block #27 - Give Me Wings
Block #28 - Groovy Granny
Block #29 - Twinkle Twinkle
Block #30 - Mother Hen